How To Increase Social Media Engagements In 2020
How To Increase Social Media Engagements In 2020
Social Media builds a long-term relationship with customers, for many businesses, it has become the best way to build brand awareness. In the growing pace of technology users, Businesses now need to be focused on social media engagements, it builds loyalty, customer trust & authenticity. Some most popular social media networks are Facebook, Twitter, LinkedIn, and Instagram helps businesses in getting better customer experience or social media engagements.
Facebook is the most popular social media platform which has the ability to capture more than 2 billion active users in the world. It has proved to be the best platform to increase engagements through likes, comments, and shares. Facebook has now become an essential platform for small and large scale businesses.
By adopting the following tips, you can manage to get more likes and followers on your page. The most prompt tip is to try to understand your audiences or visitors and act quickly as per the requirements, always give an instant answer to any query of the visitor, repost your most engaging content.
Schedule 3 posts daily on an average which is relevant to your topic and also indulge in the content seeding strategies.
Posting attractive images and videos, attract visitors the most which ultimately leads to more engagement.
Join groups related to your topic and participate in the groups by posting content about your topic and
Spend most of your time in engaging with the audience by commenting on other related posts.
Twitter with more than 320 million daily active users has proved to be the fastest-growing social media network to get engagements on media platforms. Re-tweets and followers are the two things which will help you in deriving more engagements. On Twitter, you can follow people who have similar interest and try to engage with them by re-tweeting and liking their tweets. Following are the tweets that perform well on the twitter platform.
Engagement is 200% higher for tweets with image links.
People are 21% more likely to respond to a question tweet.
86% chances of re-tweets for a tweet that contains links.
Engagement is 17% higher for tweets with less than 100 characters.
Instagram being the image-based platform has a 4.21% engagement rate that is 10x greater than Facebook and 84x higher than Twitter. Connect your Instagram with twitter and facebook. Social media engagements are always helpful in getting more traffic on your website and generating leads. Always try to engage with users with the latest trends and issues. Following are the posts that perform best on Instagram.
91% of posts by top brands use at least seven and fewer hashtags.
20% of stories posted by businesses results in direct interaction with users.
60% of the top-performing brands on Instagram use the same filter every time they post.
Instagram contests generate 3.5x more likes and 64x more comments than regular posts.
5 Steps To Increase Social Media Engagements by 450%
Start Conversation With Your Audience:
Interaction with audiences or customer is a fruitful technique to increase engagements. Don't make feel your audience that they are talking with a robot, always try to interact with them in a realistic manner. Ask questions, do comments, and try to build trust. Post content related to your upcoming products/services, events, trending updates related to your industry. Use chatbots on your social media pages.
Use Videos In Your Social Posts:
Use of videos in your social media posts will be fruitful for your business because this is the time of video content. Visuals helpful in brand recognition, that helps in increasing brand awareness. According to stats, In 2018, Facebook got 8 billion video views per day. Visuals attract audiences faster than text content, try to share video content and optimize it. Make it short and informative, nobody going to spend 4 to 5 minutes on your service or products.  Try to grab the attention with a short introduction about your brand, or you can show benefits of its usage, or you can provide something useful to your followers or audiences like tips, tutorials, or tricks in your video posts. These activities engage your audiences effectively.
Hashtags offer a range of services to help your business thrive. Hashtag marketing is the most popular trend on social media. Use the name hashtag of your company and make it popular on all social media platforms, it will be helpful to raise your brand awareness and also encourage your followers to use it as well. Use other hashtags related to your industry, you can find hashtags through keyword research. Using popular keywords is not only the way to raise your brand awareness, but marketers should also optimize their hashtags, so audiences will not miss your social posts. Use keywords which are creative, idealistic & playful.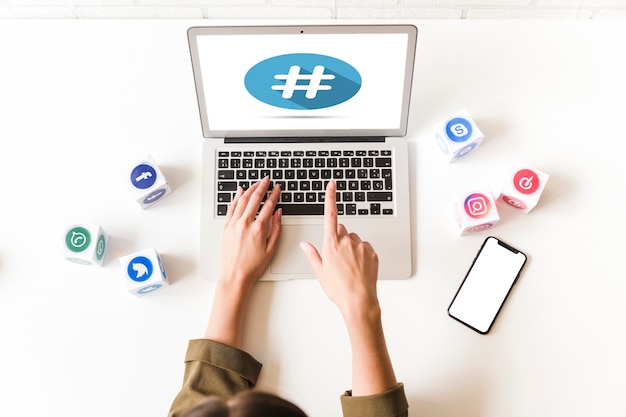 Be consistent with your social media posts, Schedule your posts according to the right time of different platforms. People use social media as customer service they found it more helpful and trustworthy when they found the regularity of businesses on their social media page. Try to make your social media page informative and attractive to engage audiences. Build a buzz around your social media page. When audiences see the comments, likes on your products or services it encourages them to do the same. Consistency and right time posting on social networks found more effective and fruitful.
Choose The Right Social Influencer: 
A social influencer is the most important part of your social media marketing, make sure he is related to your business. If you have business musical instruments then your influencer can be a singer or a musician, have the followers who have an interest in music. Make sure audiences found their personal stories, sponsored content authentic and engaging.
For 2020, Businesses should be more focused to get social media engagements and need to put more efforts to grab the attention of audiences towards their brand's products or services.
Want to know more about Digital Marketing Trends 2019, Click here:  https://bit.ly/2rxxs58